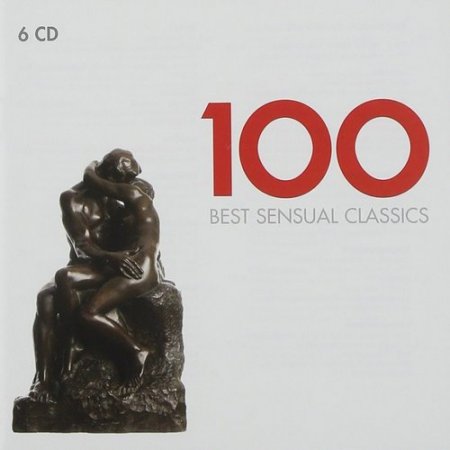 Artist:
Various Artists
Title Of Album:
100 Best Sensual Classics (6CD Box Set)
Year Of Release:
2013
Label:
Warner Classics/EMI
Country:
International
Genre:
Classical, Instrumental
Quality:
FLAC (tracks)
Bitrate:
Lossless
Time:
07:15:28
Full Size:
1.85 GB (+3%)
The first CD begins with the main theme from one of the great movie successes of our time: Titanic and it is followed by the passionate Intermezzo from Mascagni's opera Cavalleria rusticana, heard in the film Raging Bull. Passion is also felt in the tango 'Por una cabeza' from the film Scent of a Woman, and a different kind of subtle sensuous emotion is contained in 'Any Other Name' from American Beauty. All these popular film themes have established themselves as sensuous classics, whether they be by the giants of the classical world like Mozart (Elvira Madigan) and Rachmaninov (The Seven Year Itch), or writers of great film scores like Mikl?s R?zsa (Ben Hur) and Michael Nyman (The Piano).
CD 2 covers sensual orchestral and instrumental works, starting with Gershwin's glamorous Rhapsody in Blue that reflects the throbbing pulse of life in New York. Heard on this disc are several orchestral arrangements of well-known opera arias, including the ever-popular 'Nessun dorma' from Turandot, the Love Duet from Madama Butterfly and the heartbreakingly beautiful 'E lucevan le stelle' from Tosca, all by Puccini. Also heard here is part of Rodrigo's Concierto de Aranjuez with its colourful evocation of romantic life in old Spain and Liszt's Liebestraum No.3 that is a deep expression of love.
In CD 3 we move fully to the world of opera, where there are many sensual moments to be enjoyed, starting with the insinuating beauty of two female voices entwining enticingly in the Flower Duet from Lakm?. A more teasing kind of female flirting is heard in two famous pieces from Bizet's Carmen, and then Delilah's seduction of Samson inspires the two beautiful arias from Saint-Sa?ns' Samson et Dalila. The disc ends with three extracts from one of the most sensuous operas of all: Der Rosenkavalier by Richard Srauss, where three radiant female voices reach an almost unbearably erotic climax in the final Trio.
The next CD brings us a collection of dances in which a range of sensuous music is used in a variety of different styles, from the close embrace of couples dancing the waltz to the exhilaration of the Latin American beat heard in Bernstein's West Side Story. Tangos are well represented, especially in the compositions of Piazzolla and Gardel, and the CD ends with Ravel's impassioned Bolero, made famous by the skaters Torville and Dean's Olympic Gold Medal performance at Sarajevo.
CD 5 is devoted to the sensuous quality of the female voice in beautiful and sometimes wordless songs that evoke feelings of attraction and love between the sexes. The pervading mood here is Latin, with familiar melodies like 'La paloma' and the Aria from Bachianas brasilieras sung by much-loved divas like Barbara Hendricks, Victoria de los Angeles and Natalie Dessay. But it's not all Latin, with songs by Elgar ('Sea Slumber-Song') and Wagner ('Der Engel') coming towards the end of the disc, which finishes with a group of voluptuous melodies by Richard Strauss from his valedictory Vier letzte Lieder sung by Lucia Popp.
The last CD takes us to the ballet, where beautiful ballerinas flirt with love-struck princes and cavaliers and ensnare them with dazzling displays of virtuoso dancing. But we begin with the primitive pulsating of a pagan ritual involving a chosen maiden in Stravinsky's Le Sacre du printemps, which has still lost none of its power to stimulate and excite its listeners. Then comes the erotic Adagio from Khachaturian's epic ballet Spartacus, and the Balcony Scene from what is now one of today's most popular ballets: Prokofiev's Romeo and Juliet. Traditional classical ballet is represented by extracts from Don Quixote, Le Corsair and Giselle, and after further examples of sensuous ballet music, the programme ends with one of the finest examples of female seduction in all ballet, the famous 'Black Swan' Pas de deux from Tchaikovsky's Swan Lake, beginning with Odile's erotic dancing to tempt Prince Siegfried into forgetting the tragic white swan Odette, and ending with her triumphant celebration of complete success.
This 6 CD set contains 100 tracks of sensual music from the catalogues of EMI Classics and Virgin Classics performed by some of the world's finest artists. Each one of the pieces evokes some kind of a sensual feeling, from the gentle melodies of the Chants d'Auvergne to the full-blooded passion of Ravel's Bolero. This is a veritable treasure house of evocative music to create an atmosphere of sensual pleasure.
TrackList:
Disc: 1
1. Horner - Titanic Main Theme
2. MascagniI - Cavalleria rusticana Intermezzo
3. Rachmaninov - Piano Concerto No.2 in C minor
4. Rachmaninov - Rhapsody on a Theme of Paganini
5. Rachmaninov - Piano Concerto No.3 in D minor
6. Rota - Romeo and Juliet
7. Chaplin - Limelight Eternally
8. Nyman - The Piano
9. Newman - American Beauty Any Other Name
10. Mozart - Piano Concerto No.21 in C
11. Gardel - Por una cabeza
12. Bath - Cornish Rhapsody
13. Rozsa - Ben Hur Main Theme
14. Theodorakis - Zorba s Dance
15. Norman - James Bond Theme
16. Gardel - Soledad
17. Puccini - O mio babbino caro
18. Mahler - Symphony No. 5 Adagietto
Disc: 2
1. Gershwin - Rhapsody in Blue
2. Puccini - Nessun dorma
3. Liszt - Liebestraum No.3 in A flat
4. Vaughan Williams - Fantasia on a Theme of Thomas Tallis
5. Pachelbel- Canon in D
6. Beethoven - String Quartet No.13 in B flat major
7. Schoenberg - Verkl?rte Nacht
8. Puccini - Madama Butterfly Love Duet
9. Massenet - Tha?s M?ditation
10. Puccini - Un bel d? vedremo
11. Puccini - E lucevan le stelle
12. Lennon & McCartney - All my loving
13. Weill - Mahagonny Suite
14. Rodrigo - Concierto de Aranjuez
15. Huljic - Leeloos Tune
16. Monti - Cs?rd?s
Disc: 3
1. Delibes - Lakm? Flower Duet
2. Lehar - Meine Lippen, sie k?ssen so heiss
3. Heuberger - Im chambre s?par?e
4. Gershwin - Summertime
5. Gershwin - Bess, you is my woman now
6. Korngold - Die tote Stadt Gl?ck, das mir verblieb
7. Bizet- Carmen Habanera
8. Bizet-Carmen Chanson boh?me
9. Offenbach -Les Contes d Hoffmann Barcarolle
10. Monteverdi - L incoronazione di Poppea
11. Saint-Saens - Samson et Dalila (Pt. 1)
12. Saint-Saens - Samson et Dalila (Pt. 2)
13. Wagner - Tristan und Isolde Liebestod
14. Richard Strauss - Der Rosenkavalier (Pt. 1)
15. Richard Strauss - Der Rosenkavalier (Pt. 2)
16. Richard Strauss - Der Rosenkavalier (Pt. 3)
Disc: 4
1. Bernstein- West Side Story Symphonic Dances
2. Galliano- Tango pour Claude
3. Capelletti- Tango
4. Capelletti- Habanera
5. Khachaturian- Masquerade Waltz
6. Rodrigo- Concierto madrigal
7. Toyama- Dance of Men
8. Piazzolla-Tango del ?ngel
9. Piazzolla- Histoire du tango
10. Offenbach- La Vie parisienne Valse
11. Gardel- Mi Buenos Aires querido
12. Gardel- Volver
13. Gardel- Golondrinas
14. Gardel- Melod?a de arrabal
15. Reich- Nagoya Marimbas
16. Richard Strauss- Salome Dance of the Seven Veils
17. Ravel- Bolero
Disc: 5
1. Villa-Lobos- Bachianas brazileiras No.5
2. Rachmaninov- Vocalise
3. Saint-Saens- Le Rossignol et la rose
4. Canteloube - Ba?l?ro
5. Hahn- L Enamour?e
6. Iradier- La paloma
7. Ovalle- Azul?o
8. Dell Acqua- Villanelle
9. Canteloube- Brezairola
10. Orff- Carmina Burana In trutina
11. Elgar- Sea Slumber-Song
12. Wagner- Der Engel
13. Richard Strauss -Das Rosenband
14. Richard Strauss - Fr?hling
15. Richard Strauss - September
16. Richard Strauss - Beim Schlafengehen
Disc: 6
1. Stravisky- Le Sacre du printemps
2. Khachaturian - Spartacus Adagio
3. Prokofiev- Romeo and Juliet Balcony Scene (Pt.1)
4. Prokofiev - Romeo and Juliet Balcony Scene (Pt. 2)
5. Prokofiev - Romeo and Juliet Balcony Scene (Pt. 3)
6. Prokofiev - Cinderella Pas de deux
7. Drigo- Le Corsair Pas de deux
8. Minkus Don Quixote Pas de deux
9. Adam- Giselle Pas de deux
10. Ravel- Daphnis et Chlo? Bacchanale
11. Satie- Gnossienne No.1
12. Johan Strauss- II Graduation Ball Pas de deux
13. Verdi- The Lady and the Fool Pas de deux
14. Tchaikovsky- Swan Lake Black Swan Pas de deux (Pt. 1)
15. Tchaikovsky- Swan Lake Black Swan Pas de deux (Pt. 2)
16. Tchaikovsky- Swan Lake Black Swan Pas de deux (Pt. 3)
DOWNLOAD LINKS: 100 Best Sensual Classics (6CD Box Set) FLACDownload | TurboBit
https://turb.pw/mo547kxsfayq/100_Best_Sensual_Classics_FLAC.rar.html

Download | HitFile
https://hitf.cc/BWCU0Ft/100_Best_Sensual_Classics_FLAC.rar.html

Download | Turbo.to
https://turb.pw/mo547kxsfayq/100_Best_Sensual_Classics_FLAC.rar.html

Download | Hil.to
https://hitf.cc/BWCU0Ft/100_Best_Sensual_Classics_FLAC.rar.html

Понравилась новость? Расскажи друзьям!